Designed by
David G. D. Hecht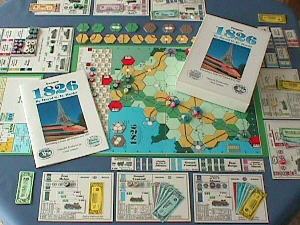 1826 is set in France, the game is designed for 2 to 6 players and should take about 5 hours to play. It has such features as
Early trains have a range (2, 4, 6 or 10 hexes) while the later trains (E and TGV) runs a specific number of stops. TGV Trains can also 'reuse' routes.
Early Corporations are partially funded, they receive capital as shares are sold. Later corporations are fully funded.
5-Share Corporations which can convert to 10-Share Corporations once they reach their destination.
Twelve Corporations, a maximum of 10 can come into play.
Two waves of Nationalisation, the Etat and SNCF.
For more detail, see the Summary by David Hecht

The gamekits are available in Gold or Silver Editions. This will allow the purchaser the choice between the cost and the amount of extras the gamekit will contain.

1826 Gold Edition

This contains Shares, Charters, Tiles, Trains and Maps, for a total of 25 full colour sheets. The 19 component sheets (Shares, Charters, Tiles, and Trains) are thermally bonded using 100 micron double sided matt laminate. This makes the components extremely wear (and water) resistant and gives the look and feel that they are made from plastic. One of the component sheets (containing Private Companies and Loan markers) is printed doubled sided. The map, stock market and initial offering are not laminated because it would cause the components to slide around to much during play. The tokens are printed directly onto self adhesive labels which can be applied to 1/2" square counters (which I am now unable to supply anymore). The money set is printed on coloured paper. The gamekit comes with a full size rulebook, all contained in a 2" deep gamebox with colour box art along with a number of game aids and all the components required to play.

1826 Silver Edition

A cheaper option is not to have any of the components laminated. This saves on the lamination cost and on postage. Other than this, the gamekit is identical to the Gold Edition with the exception that the double sided sheet is printed on two separate sheets. If you so wish you can laminate the components yourself or mount them onto thicker card stock.

Please note that the gamekits requires the components to be cut out.
1826 Gold Edition Gamekit,
Cost (includes Post and Packing)
UK
£20
Europe (Air Mail)
£21
US (Air Mail)
£26
US (Surface Mail)
£21
This page is maintained by Chris Lawson (chris.lawson@virgin.net) Last Updated 9th September 2001