GAMEKIT PRODUCTION NOW ON HIATUS
Please do not sent in orders as distribution is currently closed.
---
Where to find the game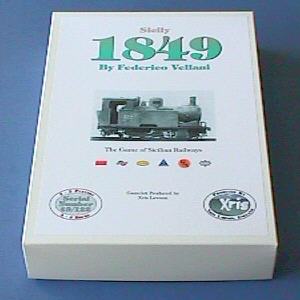 1849 is now available as a gamekit from Chris Lawson in the UK. It was first released by Federico Vellani as 1850 but later renamed 1849 (because another game had already used 1850 as a title). It has gone through a number of major changes over the years, the latest of which is Version 4.
1849 Gamekit
Cost (includes Post and Packing)
Bronze
Silver
UK & Europe (Air Mail)
£8
£14
US (Air Mail)
$20
$30
US (Surface Mail)
$15
$25
The Gold Edition 1849 gamekit is no longer available.
This page is maintained by Chris Lawson (chris.lawson@virgin.net) Last Updated 12th December 2000